We offer RV service with a driver nationally in your motorhome or ours. All our drivers are bonded and insured for your safety. We can pick you up just about anywhere in the lower 48 states.
Corona Virus – COVID-19 information
All our licensed, insured, and bonded drivers will be tested 24 hours prior to leaving our lot. All our luxury RVs will be equipped with a first aid kit containing COVID-19 home tests and all drivers and passengers will be tested daily to ensure your safety. If our driver tests positive at any time during your trip, a new driver will be sent as quicky as possible to replace the positively diagnosed driver. If any passengers test positive during the trip, unfortunately for the health and safety of our drivers, the trip will have to end at the nearest qualified healthcare provider.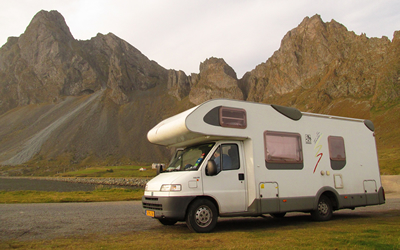 Renting or Hiring an RV with a driver
We offer RV service with a driver nationally in your motorhome or ours. All our drivers are bonded and insured for your safety. We can pick you up just about anywhere in the lower 48 states.
Why hire an RV with a driver for your trip?
Traveling in an RV is a great way to get from city to city or state to state is the best option for those people that do not want to fly for any reason. Whether you don't like to fly or you have special needs due to a physical injury, health problem or disability, a motorhome with a professional driver allows you to get where you are going in style and absolute comfort.
Hiring Limelight limousine for your trip allows you to get from point a to point b in the privacy of your own private sanctuary. This allows you and your guests to take the trip knowing you will not be forced into being in crowded airports, airplanes, or any other mass transportation inconveniences.
A road trip across any of the 48 contiguous states is an amazing experience for anyone and there is no better way to experience this great land of ours than the comfort of your own RV with a professional driver.
With the pandemic in full swing you may need to travel a long distance but are uncomfortable with the idea of driving yourself or using public transportation such as flying, taking a bus or a train. Having a chauffeured Class C motorhome is a perfect way to avoid the crowds and leave the driving to us.
Hiring a motorhome with a driver also allows you to have a full camping experience anywhere in the United States without the concern of driving. There are so many scenic locations in this country that are simply stunning to behold. Your itinerary can encompass as many or as few scenic vista point and campgrounds as you would like to add on your trip.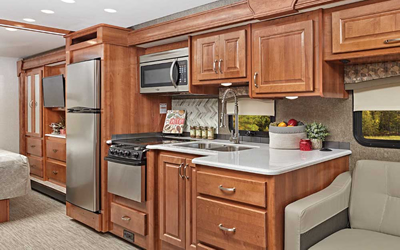 RV Amenities and Safety Features
Limelight Limousine Service owns and operates several luxury RVs and Motorhomes to transport our clients nationwide. Our drivers are bonded and insured for your safety and can drive you in either our RV or your RV. Our class C Motorhomes are all, fully loaded and late models and have the following amenities and safety options:

• Comfortably sleeps 2 to 3 guests with guests with room for a 4th guests if needed. Our drivers never sleep in the RV. Drivers sleep in a local motel to ensure your privacy.
• Kitchen with 3-burner gas cooktop with oven, residential refrigerator with ice maker, microwave, solid surface countertops and sink covers and a stylish decorative backsplash.
• Sitting Area with fold out twin bed for an extra guest or child.
• Flat Panel TV with Satellite Dish and Wi-Fi Connectivity.
• Bathroom with Shower, Vanity and Commode.
• Private Bedroom with a queen-sized bed.
• Towing package to bring your own vehicle along.
• 43 cubic feet of basement and exterior storage.
• On demand hot water heater with recirculation pump.
• Powered patio awning, with integrated LED lighting.
• 15,000 BTU air conditioning system with heat pump.
• Canopy, table, and folding chairs for outdoor dining.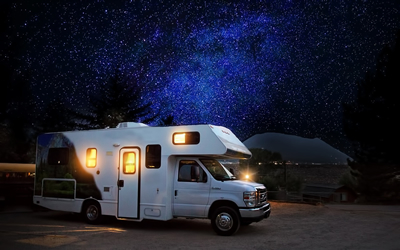 Safety
• Heated and powered front seats, with three memory settings, for two drivers and a convenient swivel seat mode.
• Automatic climate control.
• Active Distance Assist Cruise Control that keeps enough distance between your vehicle and the one ahead of you to ensure optimal safety.
• Active Lane Keep Assist: If a driver is ever to unintentionally drift or leave their designated lane, Active Lane Keep Assist immediately alerts them.
• Traffic Sign Assist: Throughout your travels, speed limits can be ever-changing. Traffic sign assist helps to identify the correct speed and adjust accordingly.
• Rearview camera monitoring system.
• LED High Performance Headlights improve illumination, maximizing the view of the road ahead while further enhancing the vehicle's overall aesthetic with a sleek optional front-end design.
• Three sets of safety airbags, front, window, and thorax pelvis airbags.
What is a Class C RV or Motorhome?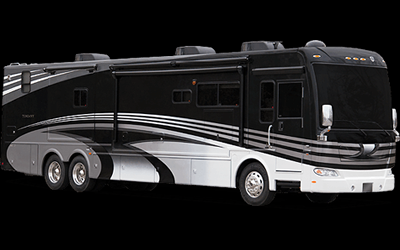 A class C motorhome is a cross between a Class A and a Class B Motorhome. Class C motorhomes are a perfect size for a small family.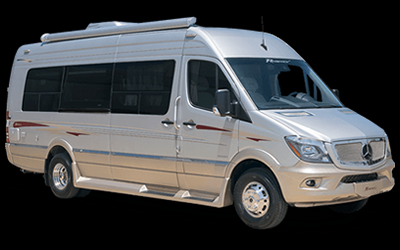 A class A motorhome is c full sized bus, these are often used as tour buses for musical artists and are fantastic for traveling with large groups or a big family.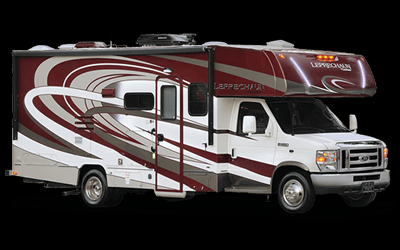 Class B Motorhomes are currently being built using Mercedes Benz sprinter vans. They are quite nice and have fantastic amenities however, they are exceedingly small and really only work for 1 guest or 2 that are willing to be quite intimate.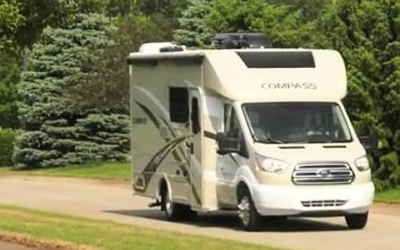 Further Information
Which Type of Motorhome is Right for You: Class A, C or B?
Campers Inn RV
Limelight Limousine Service owns and operates several luxury RVs and Motorhomes
Our Fleet / Photo Gallery
Frequently Asked Questions
Can I bring my car?
Yes, all our C-Class RVs have factory towing packages to bring along your personal vehicle.
Does the driver sleep in the motorhome?
No, all our drivers sleep at a local motel for your privacy and security.
How many people can travel?
Our C-Class RVs sleep 2 to 3 passengers comfortably. All vehicles have a fold out bed in the sitting room for a 4th guest or a child.
Can I have alcohol in the motorhome?
All states have different laws concerning alcohol. As a rule of thumb, the answer is yes if there are no minors in the vehicle. If minors are traveling, no alcohol will be allowed inside the vehicle at any time. However, alcohol may be enjoyed outside the vehicle when stopped while using the outdoor dining feature. Again, if minors are traveling state law does not allow open containers to be stored in the vehicle while in motion.
Can I driver your RV while the driver rests?
No, Unfortunately, our insurance will not cover anyone driving our RVs except our drivers. If you would like to share the driving, you will need to rent a motorhome and have our driver on your rental agreement.
Can you drive my motorhome or one that I rent from Cruise America or the like?
Yes – If you are renting, the driver will need to go to the rental agency and be added to the rental agreement as an additional driver.
How many hours per day will the driver go?
Our drivers are able to drive 8 to 10 hours per day.
Are Limelight drivers licensed, bonded, and insured?
Yes, all our drivers are licensed and bonded and all vehicles have a minimum of $1.5M insurance coverage.
What is your cancelation policy?
A 50% deposit is required at the time of booking. A full refund is available up to 48 hours before the trip is scheduled to start.
Do you offer Class B RVs?
Yes, We can rent just about any vehicle you want, You will pay the actual rental charge plus a premium for our driver to pick up the vehicle and come to you.
Can the driver assist travelers with disabilities?
Yes, all our drivers can help our guests in and out of the vehicle at all stops and minimally assist in simple care giving. If your healthcare requirements are more robust, we suggest bringing a certified healthcare professional along on the trip.
Contact Us
Let us know the number of guests and if there are any minors who will be coming along, date of travel, number of days, starting and ending addresses in your message to us. You are welcome to contact us at 818.968.9414 or send us an email at limelightlimo@aol.com for further information regarding long distance driving with our RV and motorhome services.